Ivonne's Biography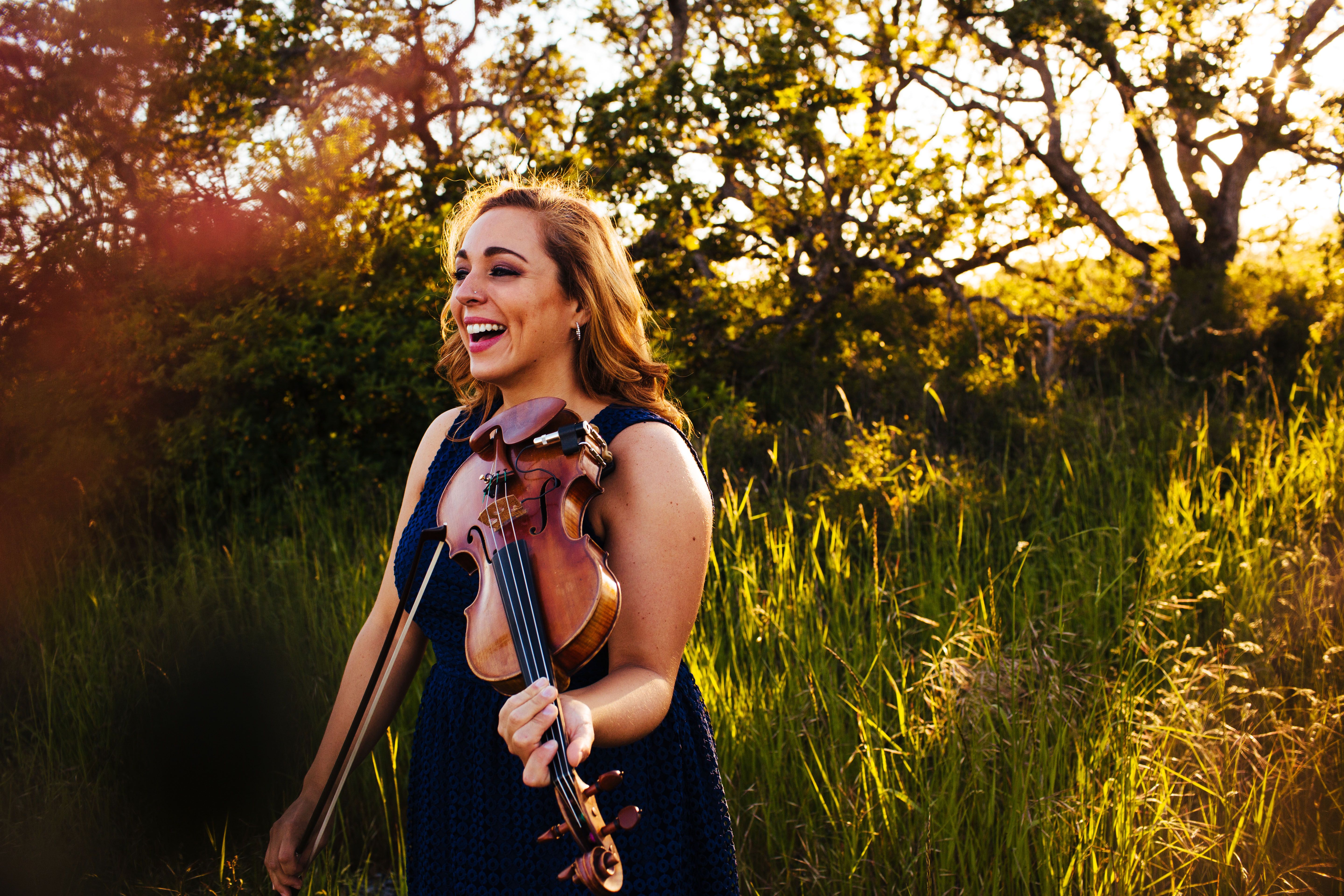 Some people are born to play music. By the age of three, Ivonne Hernandez started playing violin by ear, everything from her mother's favourite Maritime reels to her father's Chilean folk music roots. A child prodigy, she soon was playing guitar, piano, cello, flute, and percussion before joining Daniel Lapp's BC Fiddle Orchestra. While still in her pre-teens, Ivonne played on the Orchestra's Fiddleharmonic CD and before 60,000 at a Commonwealth Games performance with the Crash Test Dummies.

At 13, Ivonne was the youngest member of the Greater Victoria Youth Orchestra and formed Fiddlemania, a dual-violin band with her younger sister, Kalissa. She was the Merritt Old Time Fiddlers' Provincial Champion for two years running before becoming a judge at the event as a 15 year old. Ivonne is the reigning 5 time Grand North American Fiddle Champion, and has performed with Mark O'Connor, Alan Jackson, Gloria Estefan, Jann Arden, U2's the Edge, Natalie MacMaster, Earth Wind and Fire, Steve Winwood, Burt Bacharach, Juan Louis Guerra, Rosa Pasos, Ben Hepner and legendary film composer Howard Shore.

The young musician has been featured on television and radio, at folk music and fiddle festivals around the world, and played for the Governor General of Canada. Her debut recording, Playing With Fire, garnered critical raves, and in 2006 Ivonne released In Time (Warner Music Canada). She has most recently recorded and produced a twin fiddle album with her sister, Kalissa Hernandez fittingly called 'Sisters' as well as Kalissa's debut album 'Later than Last' both released in 2009. In 2011 Ivonne teamed up with long time guitarist/singer-songwriter and collaborator Jeremy Walsh to release the album 'Live off the Floor' which represents their energetic and dynamic live shows. Ivonne is now a sought after session player and lends her talents on many critically acclaimed recordings and film scores from artists in both Canada and the US.

With her band, Ivonne has been performing many educational and entertaining school shows across Canada and the US to high acclaim. She has toured and taught all over North America, the Carribean, the UK and Ireland and Europe, and if that wasn't enough, Ivonne was offered a scholarship to attend Berklee College of Music and graduated in 3 years at the top of her class with a dual major in Violin Performance and Music Business & Management. 

Ivonne's other band The Fretless, has been her dream project. Combining the essence of a chamber string quartet, with the music of the folk and celtic worlds, The Fretless is a supergroup that combines the hot fiddling of the 3 top fiddlers in Canada and the best Irish cello player in the USA. The Fretless has been wowing audiences across North America and Europe with their unique sound, arrangements and prolific playing. Their 2012 critically acclaimed debut album 'Waterbound' as been garnering attention and awards including the 2012 Western Canadian Music Award for Instrumental Album of the Year and two 2012 Canadian Folk Music Awards for Ensemble of the Year and Group of the Year. With constant touring and a new 2014 self titled 2nd album, they again won a 2014 Western Canadian Music Award for Instrumental Album of the Year and the 2014 Canadian Folk Music Award for Ensemble of the Year. In 2016, after recording their third album titled 'Birds Nest', Ivonne left the band, but still ended up winning a 2017 Juno Award for Instrumental Album of the Year, and 2 Canadian Folk Music Award nominations! 

Ivonne Hernandez has mastered Canada's traditional fiddle music. She embodies the country's 21st century multiculturalism, and her music reflects the new century's marriage of cultural influences. The young fiddler transforms her folk music roots into an exciting and dynamic new form. Looking for something new in folk music? This is it!