Learn From Ivonne
With a degree in pedagogy and numerous testimonials to her unique & effective teaching abilities in both classical and fiddle music, Ivonne is a sought after teacher. Combining her skills & training in both Classical & fiddle music, her approach to teaching is simple: have fun, but with good technique! Ivonne is also trained in the Suzuki & Mark O'Connor methods which use very similar philosophies. 

Ivonne has taught at many camps and workshops around the world in countries such as Canada, USA, England, Scotland, Ireland and even Barbados.

Some wonderful camps that Ivonne has taught at are:
 
Victoria Trad Weekend Festival (Victoria, BC)
Saltspring Island Fiddleworks (BC, Canada)
Silver Creek Fiddle Camp (AB, Canada)
BC Fiddle 'Treat (BC, Canada)
Falcon Lake Fiddle Camp (MB, Canada)
Booher Family Music Camp (OR, USA)
Edinburgh Youth Gaitherin (SCO, UK)
Viney Hill Suzuki Course (ENG, UK)
Northwest Fiddle Fest (BC, Canada)
Fiddlemania (AB, Canada)
Sturgeon Falls Fiddle & Step Dance Festival (Ont, Canada)
Tuffnell Fiddle Camp (SK, Canada)
Kenosee Lake Kitchen Party (SK, Canada)
Whitehorse Suzuki Camp (YK, Canada)
Emma Lake Fiddle Camp (SK, Canada)
Sunshine Coast School of Celtic Music (BC, Canada)
Vancouver Island Fiddle Camp (BC, Canada)
North West Strings Camp (Chehalis, WA)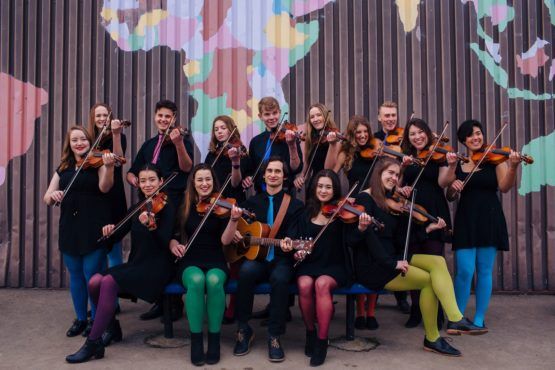 Ivonne is the Artistic Director and Coach for the award winning group Coastline.

Based out of Victoria, BC, Canada, Coastline is a string ensemble comprised of 15 of BC's top young musicians ranging from ages 13-21. With intricate arrangements of traditional, original and contemporary fiddle tunes from around the world, Coastline is pushing boundaries and always having a great time whenever they play. From the farthest island on the West Coast of Canada comes a new tradition that is Coastline! They have just released their second album to rave reviews, have won the GVPAF Large Ensemble award 3 years in a row, performed at the Aberdeen International Youth Festival in July 2015 and toured Ireland in July 2018, and were nominated for 2 Canadian Folk Music Awards for their debut album in 2015. 

Please visit www.coastlinefiddle.com for more info.